What is new
New events:

Bluetooth & NFC / NFC tag discovered

New actions:

Applications / Show home
Audio / Play default sound
Audio / Media Playback: Stop
Audio / Media Playback: Pause
Audio / Media Playback: Toggle Pause
Audio / Media Playback: Next
Audio / Media Playback: Previous
Display / Screenshot

New expressions:

Empty expression: for optional expressions
Network Is connected: returns true if the specified type of network is connected

Change screen timeout action: timeout parameter changed to expression
Wait action has a new "while" parameter to wait while condition is true
Configurable shortcuts: you can set custom label and image for command shortcuts
Supports Ipack icons
Free version with full feature set: even conditions can be used, only number of commands are maximized to 4
Other changes, fixes
Customizable shortcuts
You can create shortcuts for commands or command groups to manually execute a command. When you create an E-Robot shortcut you can select which command you want to execute: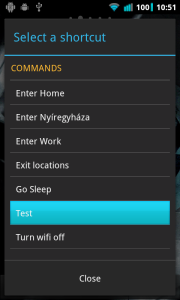 After that you can change the label of shortcut or set a custom image for it. Ipack icons are supported or you can pick an image from your device too:
What is new
New events:
New actions:

Audio / Play sound
Other / Disable Robot Command
Other / Enable Robot Command
System / Close Notification Area
System / Open Notification Area
Wi-Fi / Start Wi-Fi scan
Wi-Fi / Connect to strongest network

New expressions:

Is Call State: returns true for the specificed call states
Wi-Fi RSSI: returns signal strength in dBm

Wifi RSSI dropped/raised events are removed: use the RSSI changed event instead
Better support of Locale plugins
The application can work well even if you enable "Don't keep activities" on ICS devices
Other small changes, fixes
Connect to strongest Wi-Fi network
If you have multiple Wi-Fi networks available and you would like to be connected to the strongest one then you can do it with two commands. The first command is to initiate a Wi-Fi scan in every minute. If you use the Current time changed event then you can set time interval filters too: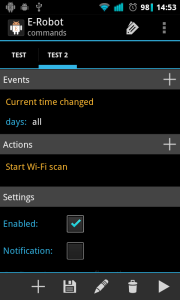 In the second command you can use the new Connect to the strongest network when a Wi-Fi scan finishes: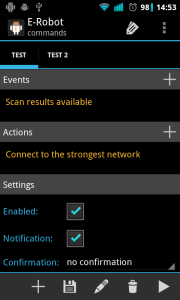 It was easy, wasn't it?
What is new
Airplane mode toggle can be used in JB on rooted devices if you install the latest System add-on
New CPU Governor toggle which can be used in widgets and profiles too
New CHBS Glasspack 2 icon pack
New Files screen: a simple file browser, you can view even system files on rooted devices
Elixir 2 can create View file shortcuts so you can easily open files from widgets
Profiles: a new Start shortcut action
Device information / Processor: displays available frequences and governors; display and set current cpu governor
Logcat screen can display logs on rooted JB devices
Other small changes, fixes
CPU Governor
If you click on the Processor row on the Device information screen and select the More information option then you can see the list of Available frequencies and Available governors and you can see the current Governor value too: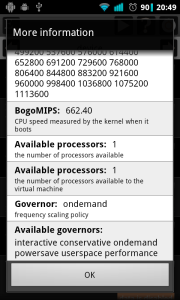 There is a new Change CPU governor option which can be used only on rooted devices: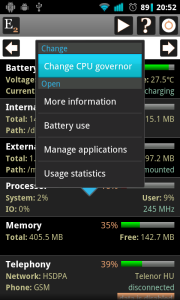 The CPU governor toggle displays the current governor setting and a selector dialog appears after you click on it: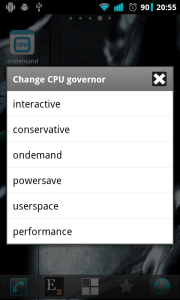 As I wrote before you can set CPU governor in profiles too.
Icon packs
A new improved version of CHBS Glasspack is available with name CHBS Glasspack 2.0 from Gál István: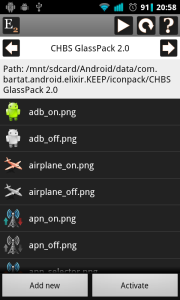 Icon packs can be downloaded if you click on the right arrow icon on the widget editor screen and select the Customize icons options. After that select the Get icon pack from Web on that screen the same way.
File browser
A new files icon is available on the main screen of Elixir 2: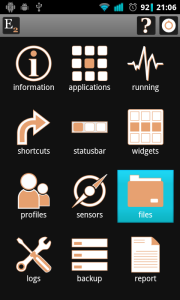 It is a simple file browser with the following features:
browse directories; even system directories on rooted devices
displays directory creation date and symlink property if the directory is linked
displays file modification date and size
content of files can be viewed, event system files on rooted devices
files can be opened in view or edit mode with the default application
files can be filtered by name
files can be sorted by name, size or modification date
This file browser is used to create a shortcut to open a file: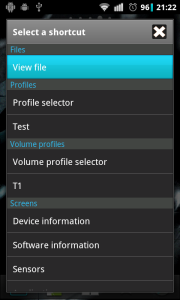 So after this release you can open files from Elixir 2 widgets too: