What is new
Elixir 2 – Donation Key app is available on Google Play to remove ads, etc.
Bookmarks: permission is moved to personal add-on, fixes
Top screen: new compact view; item actions: launch, details, market, view logs, kill, uninstall
Applications screen: enabled/disable applications for rooted devices
New popup design with categorized items
Device info/Processor/More information can display number of processors
Other small changes, bugfixes (help screen)
Elixir 2 – Donation Key
You can support development by buying this application on Google Play.
If you do so then ads will be removed and donators-only features will be enabled too.
Bookmarks
Now Personal add-on is needed to use Bookmarks, history widget because the permission needed for this feature is moved to the personal add-on. This change was mandatory because there are users who don't want to allow this permission but would like to use Elixir 2.
Top screen
The top screen has a new Compact view to be able to display more processes on the screen. If you click on the eye icon you can select the previous List view too.
If you click on an item you can do different actions with the selected process: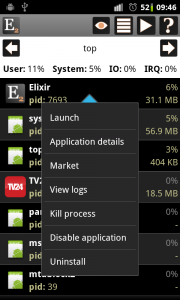 Enable/Disable applications
The applications screen can now display if an application is disabled or not. If you click on the list icon in the header you can filter disabled applications too.
There is a new Enabled/Disable application option when you click on an application. This feature is available only for rooted devices:
You can disable an application from the top screen too.
New popup design
Popup design changed and now popup items are categorized: