What is new
New Locale toggle: change locale setting
Screen filter toggle: open dialog option, can turn button backlight off
White statusbar icons to fit ICS better
Battery temperature widget: max character count parameter
Bookmarks and Screen off toggle are available as shortcuts
Swap usage can be displayed in widget and on the device information screen
Change locale
If you open the System information screen then there is a new Change locale option if you click on the Configuration row. This option opens a new dialog where you can change the system-widget locale setting. The dialog displays all the available locales ordered by name but you can set favorite locales if you click on the star icon. When you open the dialog next then these favorite locales will be placed at the beginning of the list:
This dialog can be opened from widget too by using Locale toggle. This toggle displays the current locale as label. The icon of this new toggle:

The icon of bookmarks changed:

Screen filter toggle parameters
If you click long on the Screen filter toggle on the widget editor screen then there are two new parameters for this toggle. Using the Set button brightness parameter you can disable or enable button backlight when you activate the filter. If you set the Set open dialog parameter then the color selector dialog opens if you click on the toggle in the widget. In this case the color setting is automatically applied.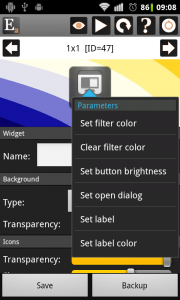 Statusbar icons
The new white icons fit well in ICS:

Swap usage
If your device has swap memory then free and total swap is displayed on the device information screen if you click on the memory row and select More information. If your device doesn't have swap then it is zero as for me: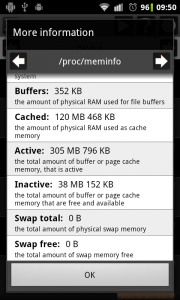 The Memory widget has new label options. It can display used, free memory or usage percent too of physical memory or swap. The swap options are available only if your device has swap memory: