What is new
Mobile and Wifi Traffic widget: keep traffic data after reboot and interface restart
Better layout for Applications by label dialog
APN selector toggle: can enable APN setting directly without opening dialog
APN toggle: can be used on rooted ICS devices using the System add-on
Home screen can be opened via shortcut
Software information screen: settings can open alarm application
ICS optimization: the "three dots" button are no more displayed
New Elixir icons in high resolution
Various fixes:

cpu freq in large widgets wasn't accurate
mobile network toggle fix for Android 4.1
battery can display accurate values on Motorola devices
next alarm can open alarm app on Htc Sense
sd mount toggle can handle if external storage is not removable
mute toggle can mute Phone ring volume on ICS
direct dial shortcut fix, personal add-on update needed
Applications by label
Maybe you already know that you can categorize applications by label at the applications screen and you can add shortcut of these labels to your home screen or a widget. If you click on the shortcut a dialog appears with a new layout which displays applications for the label. You can set if you would like the labels to be displayed or not:
APN selector new options
You can select the Set apn option in the widget editor if you would like the APN selector to select an apn setting directly without opening the selection dialog. In this case you can change the label and image too: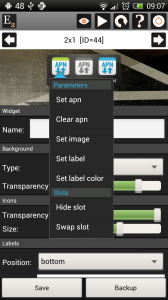 If the APN selector is set to open the dialog then it displays the name of current apn setting as label. If the APN selector is set to change the apn directly then it displays the name of apn and the image is on if that apn is selected and off if not selected.
The widget in the following screenshots contains three APN selectors. The first one is set to select "Telenor" directly, the second one is to select "Test" directly and the third opens the selector dialog if you click on it. You can see on the first screenshot that "Telenor" is selected so the first toggle is on, the second toggle is off and the third toggle displays "Telenor" as label. If you click on the second toggle to select "Test" then the first toggle goes off, the second goes on and the third displays "Test":
What is new
New Locale toggle: change locale setting
Screen filter toggle: open dialog option, can turn button backlight off
White statusbar icons to fit ICS better
Battery temperature widget: max character count parameter
Bookmarks and Screen off toggle are available as shortcuts
Swap usage can be displayed in widget and on the device information screen
Change locale
If you open the System information screen then there is a new Change locale option if you click on the Configuration row. This option opens a new dialog where you can change the system-widget locale setting. The dialog displays all the available locales ordered by name but you can set favorite locales if you click on the star icon. When you open the dialog next then these favorite locales will be placed at the beginning of the list:
This dialog can be opened from widget too by using Locale toggle. This toggle displays the current locale as label. The icon of this new toggle:

The icon of bookmarks changed:

Screen filter toggle parameters
If you click long on the Screen filter toggle on the widget editor screen then there are two new parameters for this toggle. Using the Set button brightness parameter you can disable or enable button backlight when you activate the filter. If you set the Set open dialog parameter then the color selector dialog opens if you click on the toggle in the widget. In this case the color setting is automatically applied.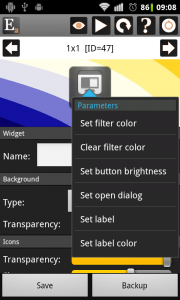 Statusbar icons
The new white icons fit well in ICS:

Swap usage
If your device has swap memory then free and total swap is displayed on the device information screen if you click on the memory row and select More information. If your device doesn't have swap then it is zero as for me: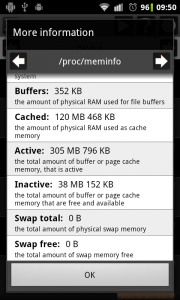 The Memory widget has new label options. It can display used, free memory or usage percent too of physical memory or swap. The swap options are available only if your device has swap memory: